Get Festive In The Joe Browns Store This Christmas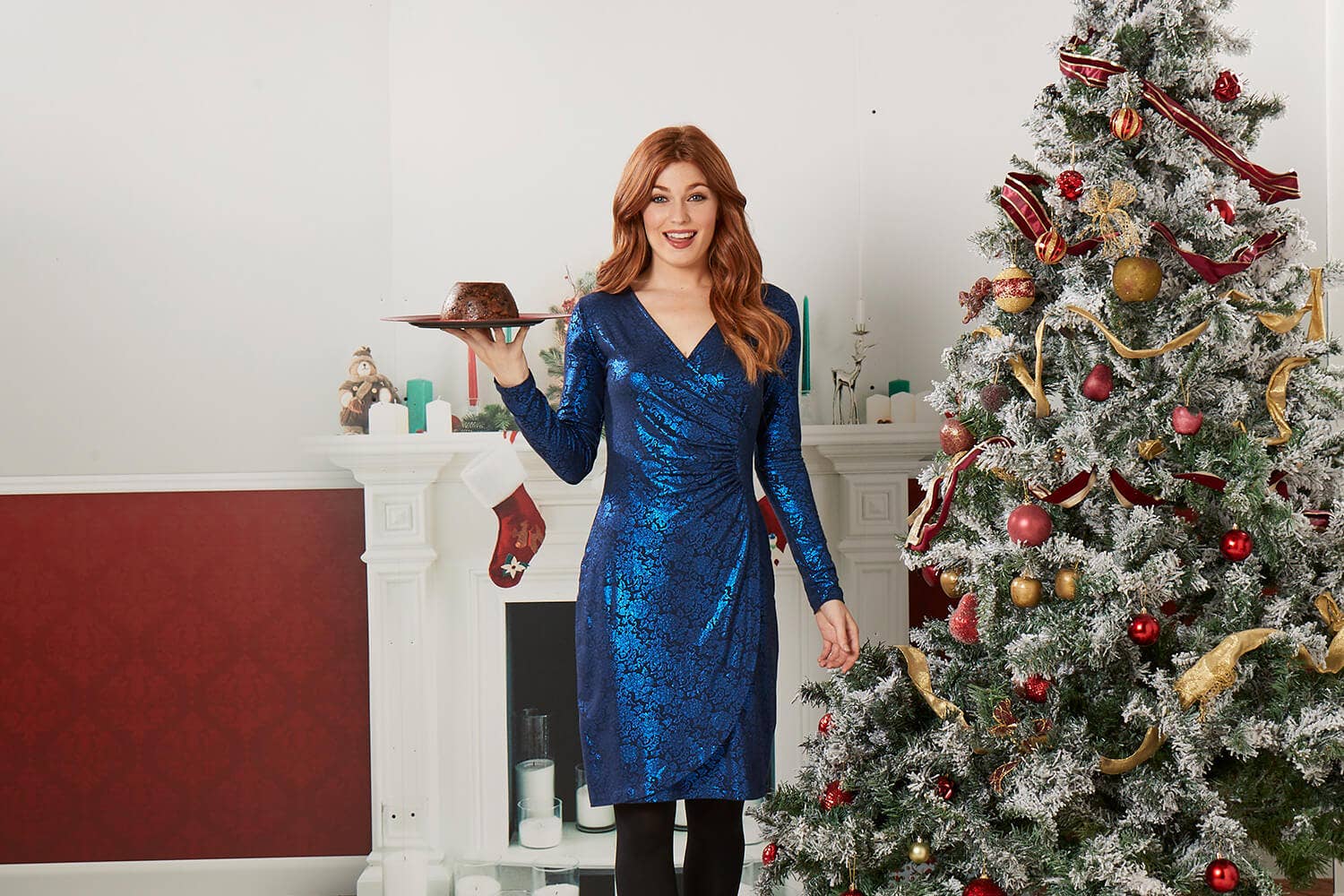 Step into the Joe Browns store (you'll find us in Meadowhall, Sheffield) and you'll discover plenty of new styles that will help make you look and feel fabulous this festive season! Whether you're on the hunt for an amazing party outfit to wow your friends, a remarkable winter coat to wrap up in or something extra special to wear on Christmas day, we've got plenty of cracking styles for all occasions.
We thought we'd share some of the excitement with you in case you can't make it – we don't want you to miss out!
Keep on reading to see something truly remarkable…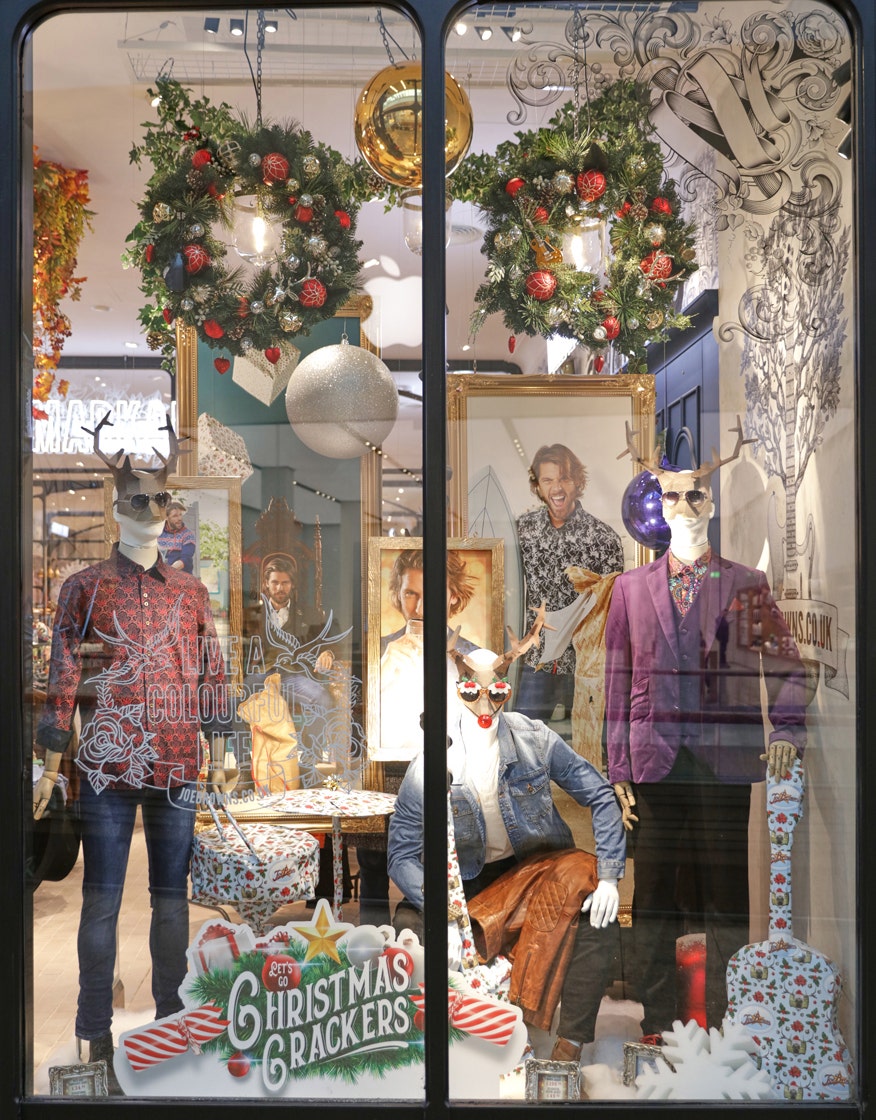 At Joe Browns, we love to create a buzz and put our heart and soul into everything we do! So, of course, our window displays are no exception.
This Christmas our female mannequins have light up holly wigs while the male mannequins have stags heads topped off with funky sunglasses. You'll also spot a pair of festive legs popping out of a chimney and musical instruments wrapped up in style!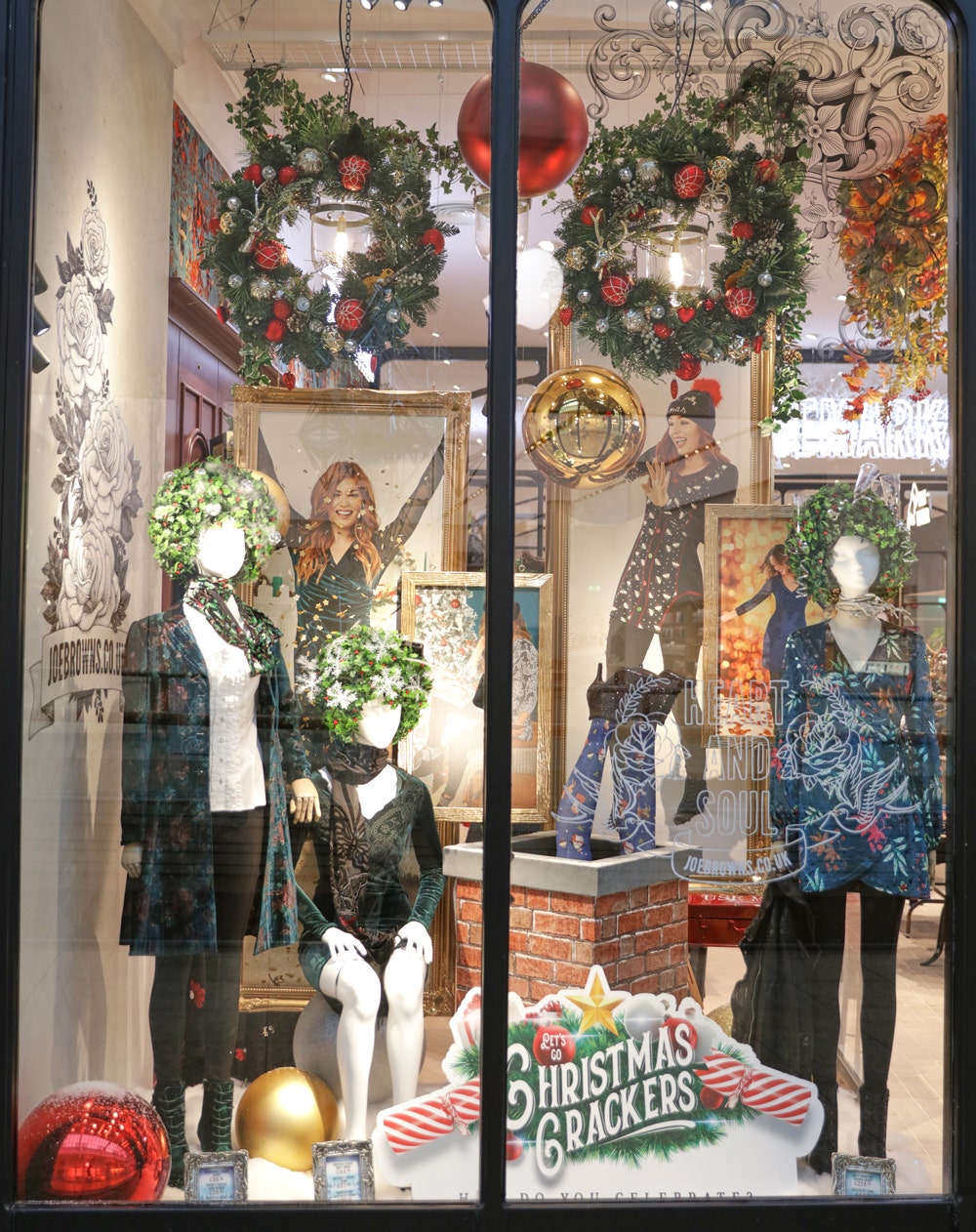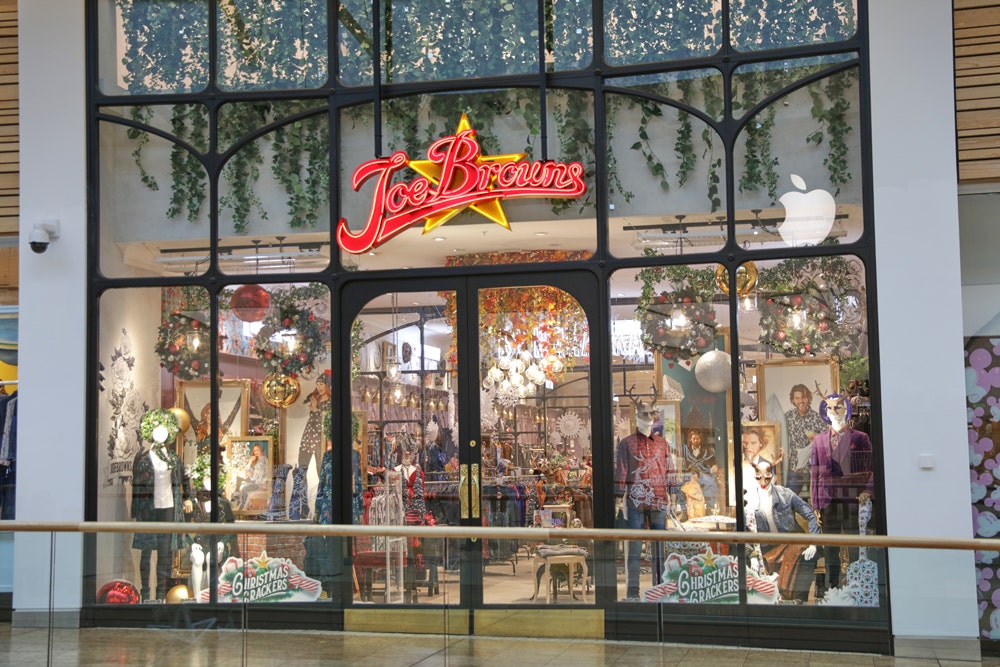 Come on in and let us show you the Joe Browns festive magic…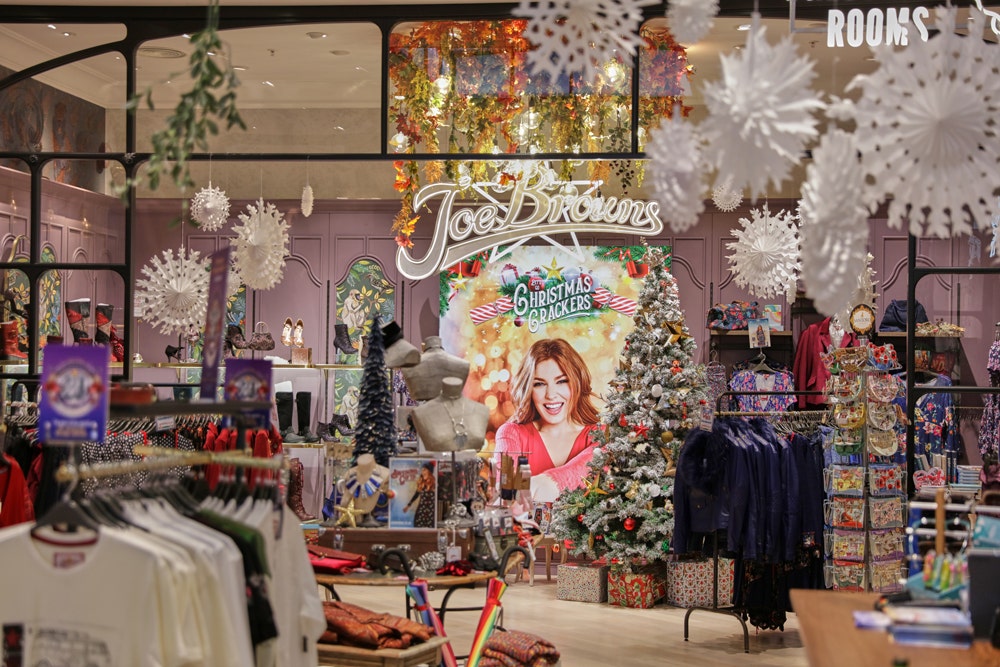 The store is decorated with an array of delicate paper snowflakes and a huge snowy tree featuring some of our festive woodland animal tree decorations. It stands tall at the back of the store next to our Jingle Belle!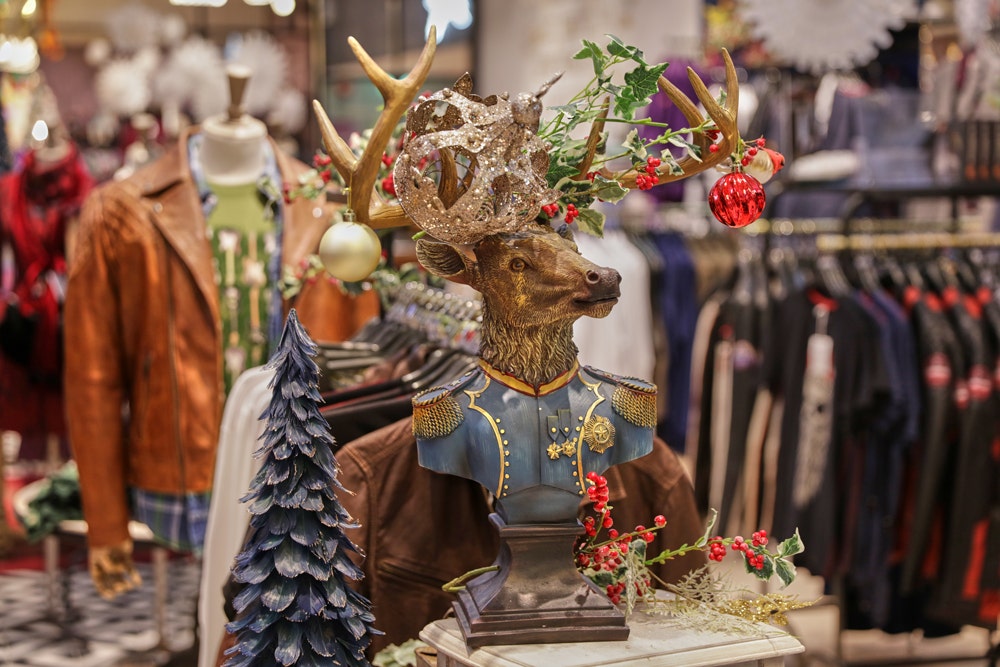 You'll see plenty of unique and pretty cool items which have been collected on our travels. One of our favourites is this stag head ornament and as you can see he's been transformed for the festive season (I'm afraid he's not for sale)!
At the front of the store, you'll find our favourite festive styles. From funky party dresses to festive knitwear we've got a massive choice for you to see, feel and try on.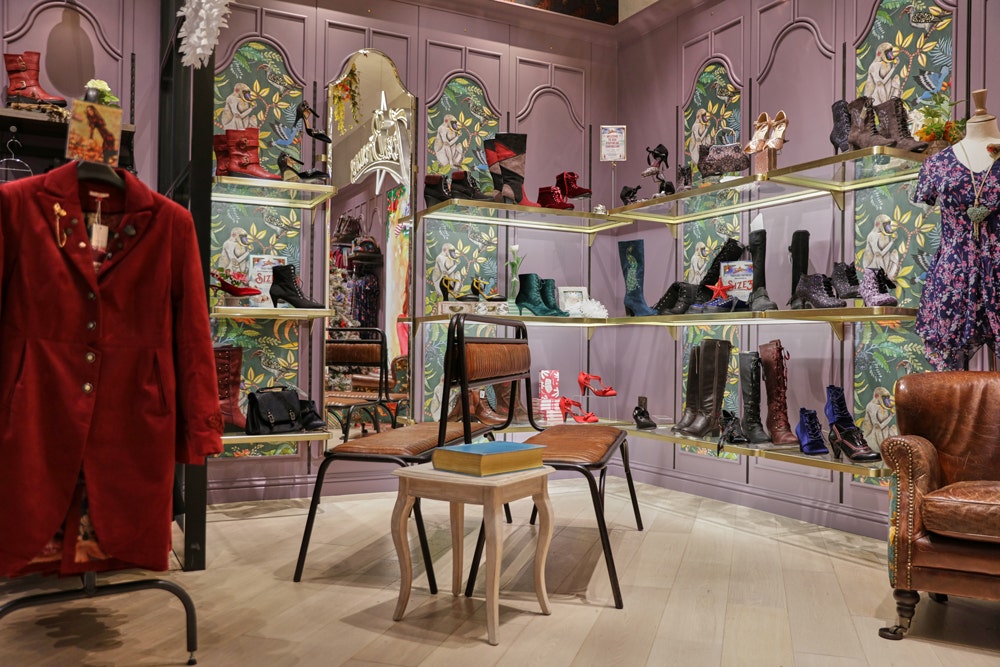 At the back of the store, you'll find our exciting footwear department where you can browse our winter boots and party shoes and try them on in comfort.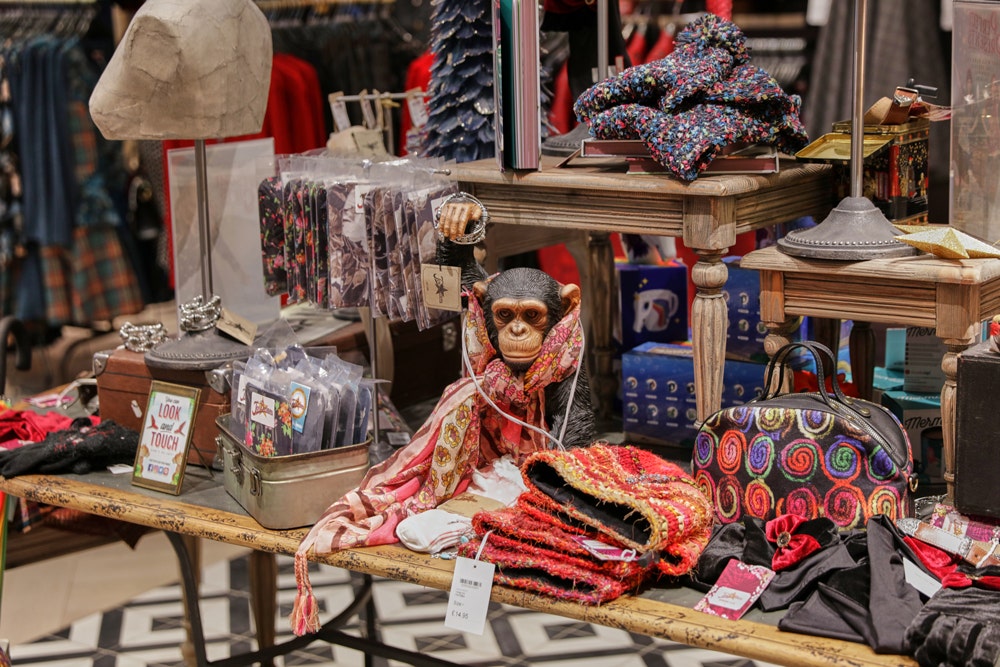 We've also got plenty of great Christmas gift ideas that will earn you some serious brownie points! From quirky books and unique ornaments to stand-out accessories, we've got plenty of awesome present ideas that are exclusive to our store!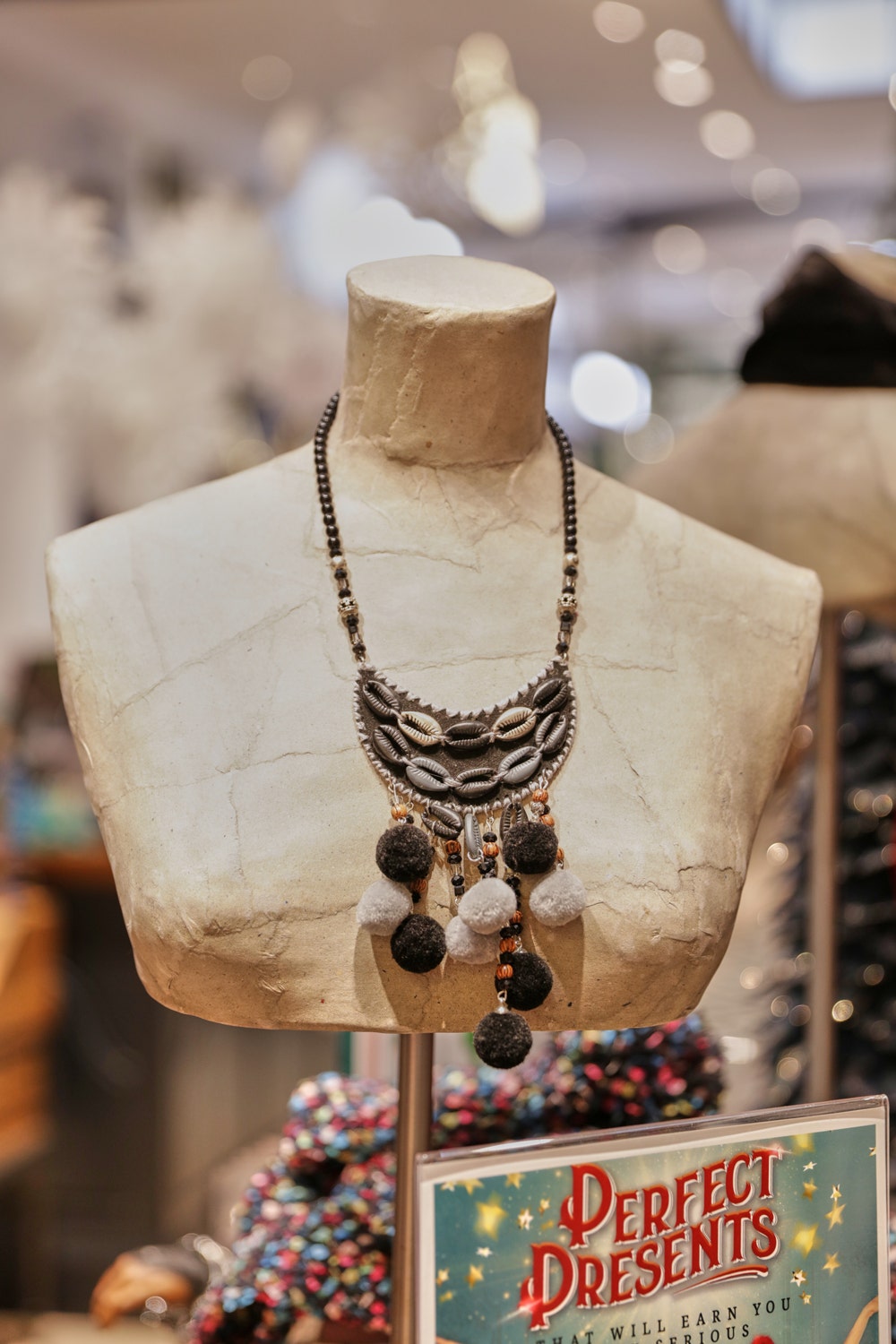 It's time to treat yourself to a new outfit, crack open a bottle and bring your own kind of sparkle this season!
Here's some Joe's festive favourites in-store:
Christmas Party...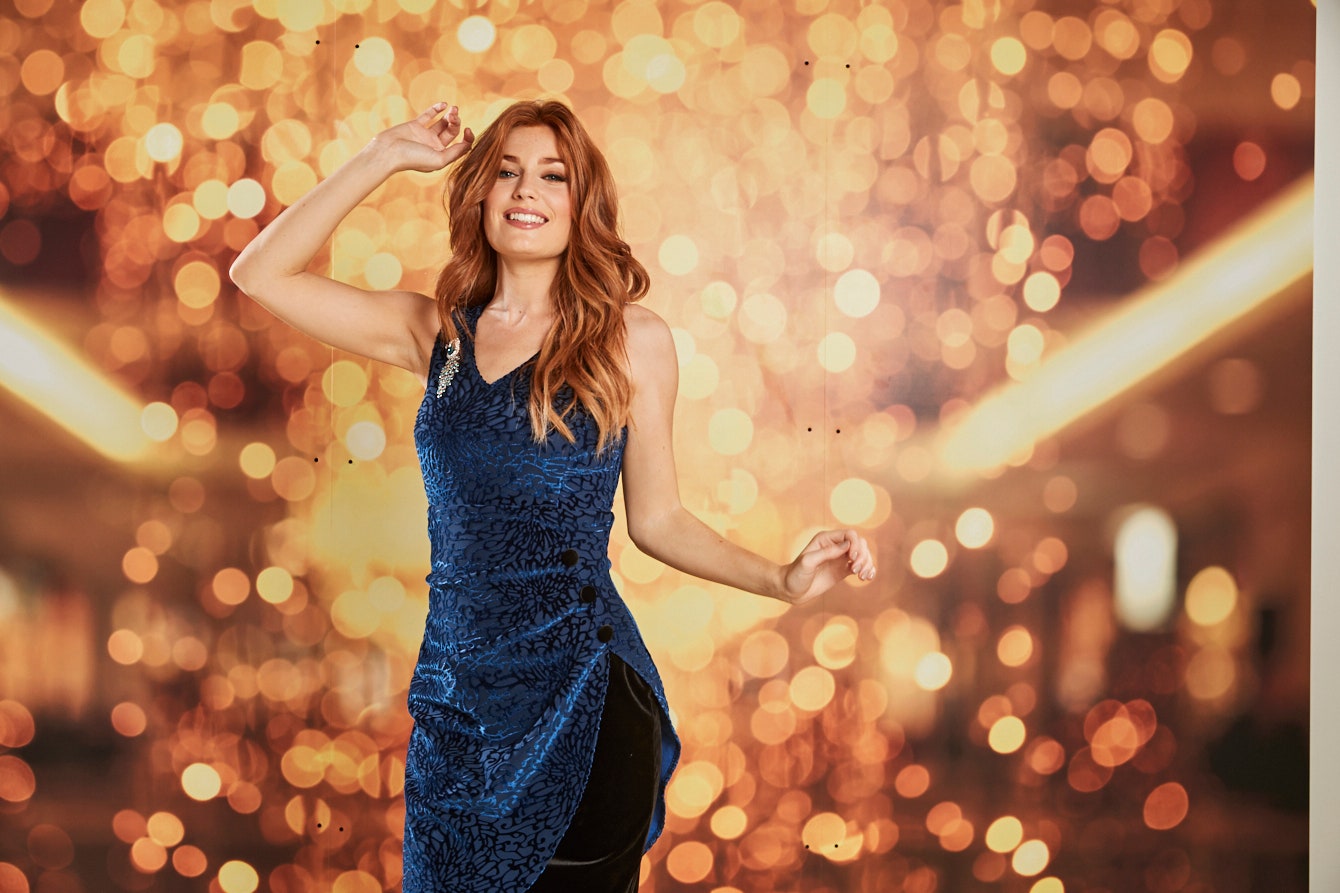 Get ready to dazzle all your work friends in the gorgeous Vivacious Vixen Dress with its vintage style shape. It comes in a beautiful flocked fabric that gathers at the waist, giving you a really flattering look.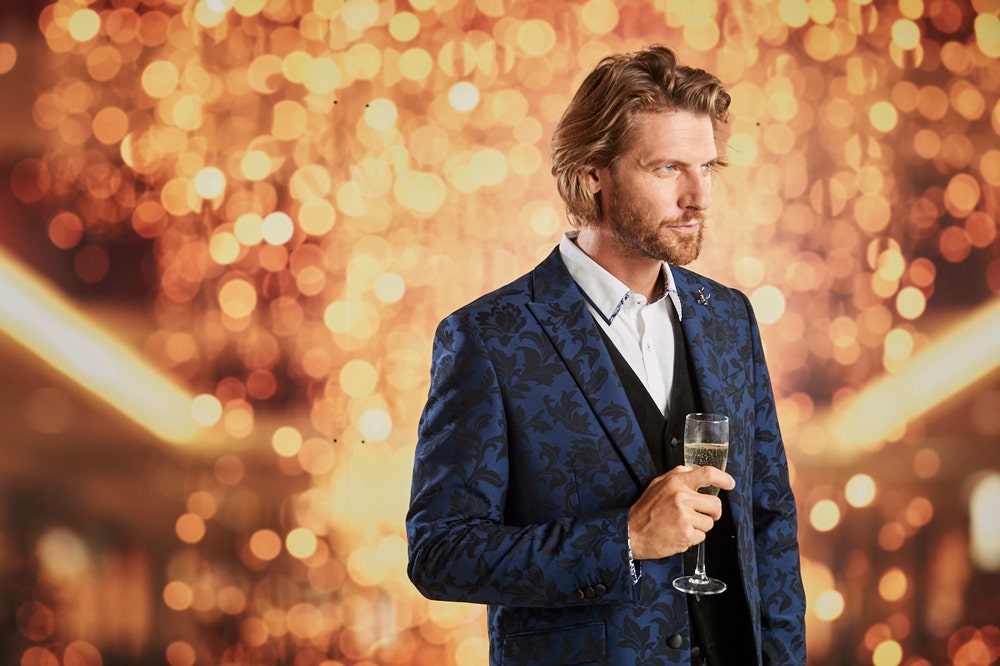 Jazz it up this Christmas and become a dapper gent in the striking Jazzy Jacquard Blazer. The distinctive pattern and rich colour mean this jacket is perfect for this time of year and will ensure you ooze cool at the Christmas party!
Christmas Day...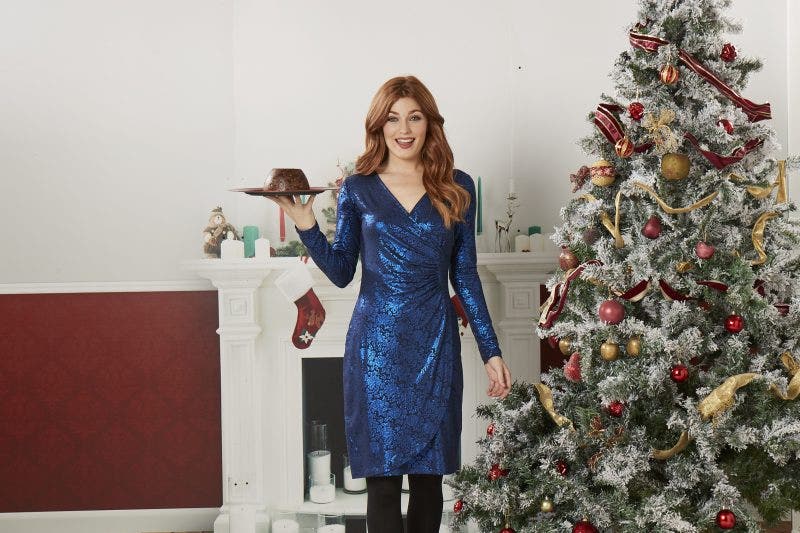 Are you the one who pulls out all the stops on the big day to make sure your family and friends have a cracking time? The Perfect Printed Dress is a great choice if you love entertaining and want to look and feel your best on Christmas day.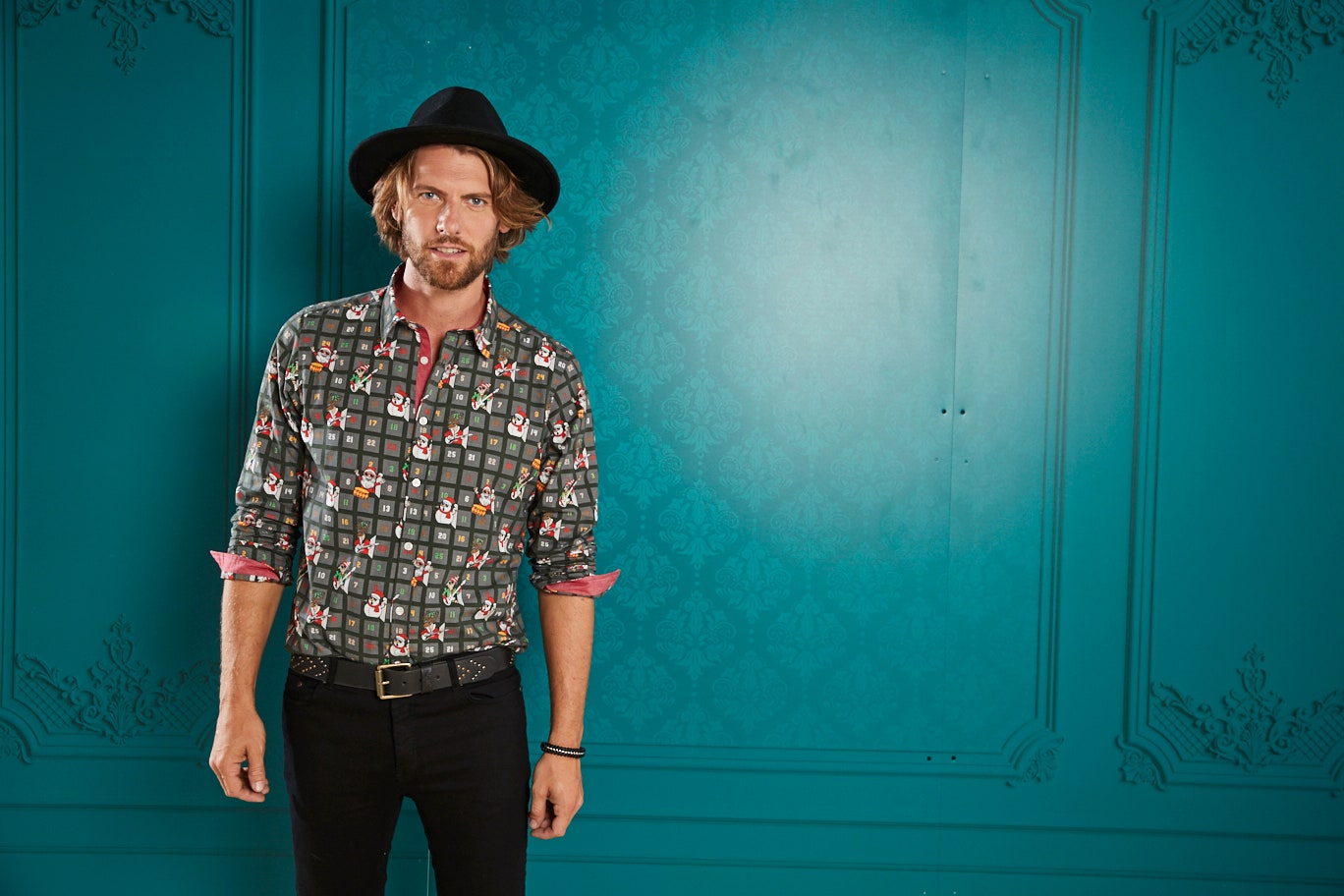 Get ready to rock and have plenty of fun on Christmas day wearing the Advent Calendar Shirt. The funky and fun-loving festive print will make you the king of Christmas this year!
New Years Eve...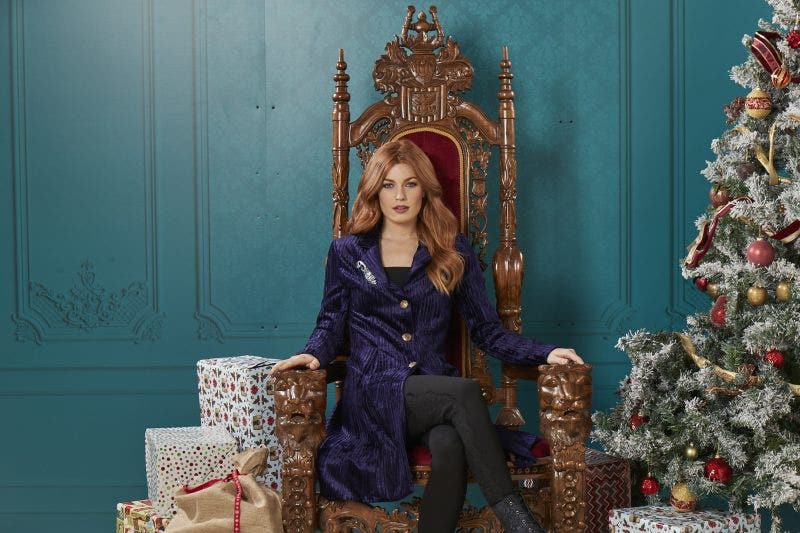 Create a dramatic look on New Years Eve wearing The Vampiress Coat! It comes in a gorgeous crushed velvet fabric and the flowing shape means it's really comfortable and easy to wear. It looks great with leggings and a top or a dress, so you've got plenty of choice when deciding what to team it with.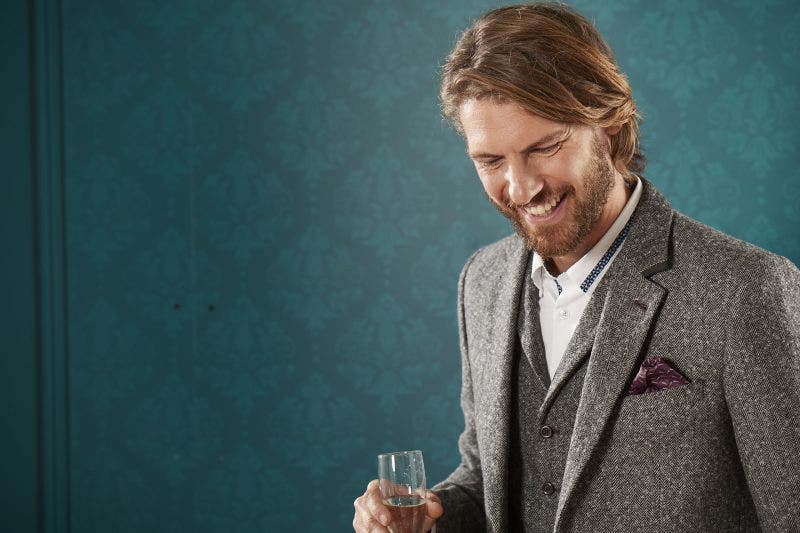 This grey wool-blend blazer is perfect for bringing in the New Year. Finish the look off with the Nicely Nepped Waistcoat or team with a shirt and jeans for a more casual look. It's a key wardrobe piece that you'll wear time and time again!
We hope you loved reading all about our flagship store and can see Joe Browns coming to life!
Keep your eyes peeled for even more updates from the store here on the blog or better yet – come in and see us!