Staycation Series: South and West Coast of Wales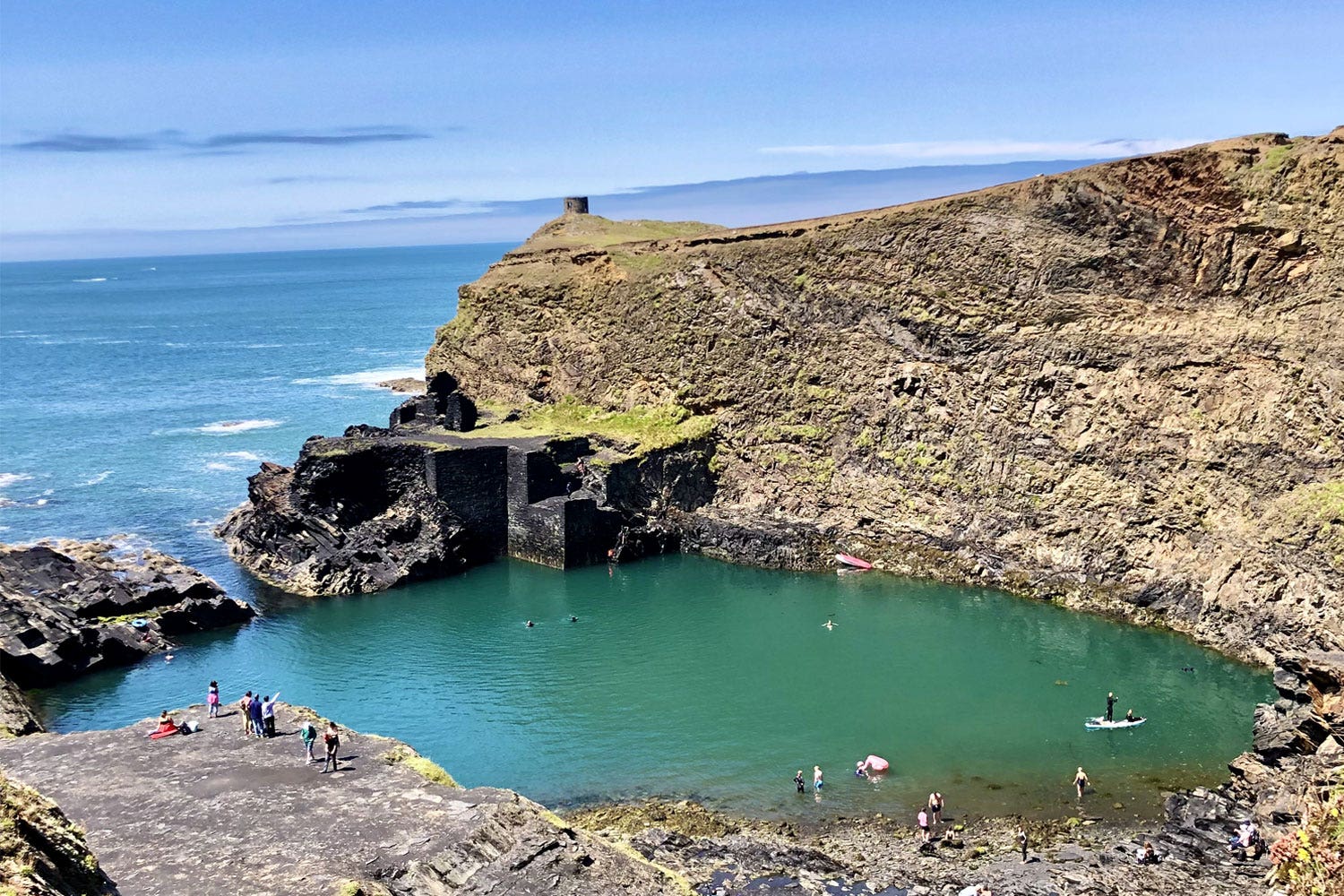 In the 6th instalment of our 'Staycation Series', Jodie (Senior Social Media Executive and avid explorer) takes us through her top hotspots for holidaying along the scenic South and West coast of Wales.
With uncertainty around travel still in the air, we decided to book 10 days exploring the glorious South and West coast of Wales.
Famous for vibrant villages, wild and wonderful landscapes, cracking coastal walks and plenty of beautiful beaches to explore we were sold and booked the trip!
Here is a selection of my top spots to visit…
Tenby
The first stop on our Welsh tour was a 5 day stay in Tenby, and it certainly didn't disappoint! With a backdrop of pastel coloured Victorian architecture, stretches of golden sandy beaches, turquoise waters and a bustling town centre, Tenby was by far one of our favourite spots.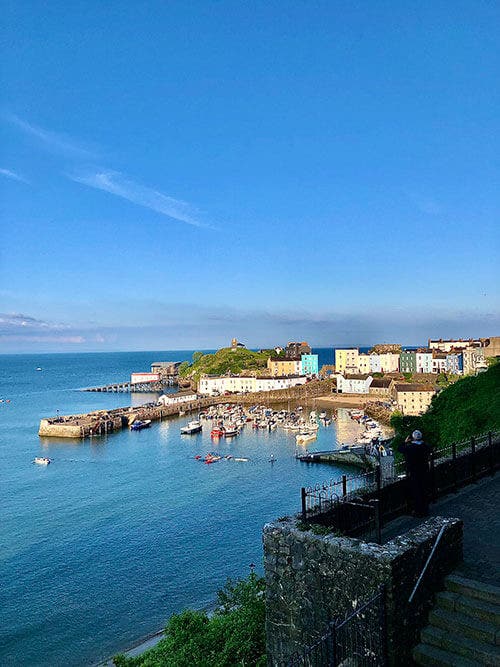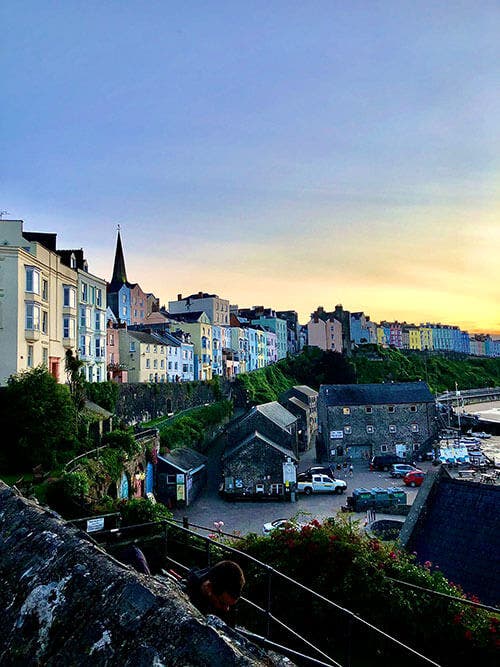 Things to do:
We love embracing watersports when we're away in the UK (even if that means embracing the cold water temperatures too!) so we'd definitely recommend having a go at paddle boarding at Tenby South Beach. Paddle boarding is something everyone can have a go at whatever your fitness level (take it from two novices) and it's great fun! You can hire a board and wetsuit from SupSessions for as little as £12. Wetsuit recommended but not essential…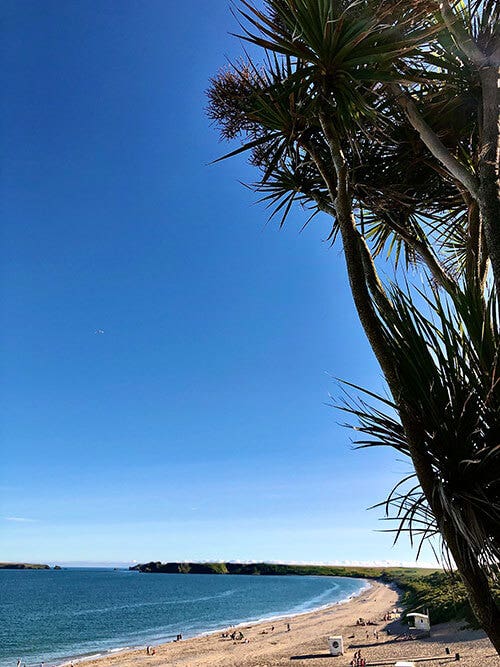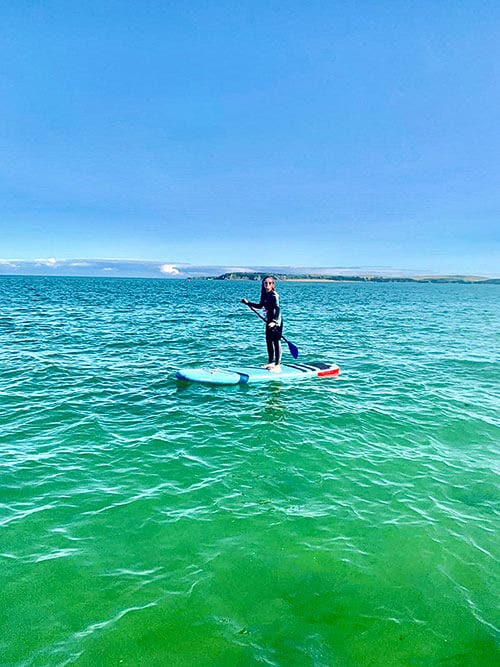 If you're fancying an adventure, jump on one of the fleet boats from Castle beach to Caldey Island and take in the stunning views of Tenby from the sea. Caldey Island is occupied by Monks and is the perfect pitstop for a relaxing day. You can enjoy the tranquil gardens, take in the spectacular views of the Cistercian Monastery, or if you're like us, take advantage of the long stretch of quiet beaches!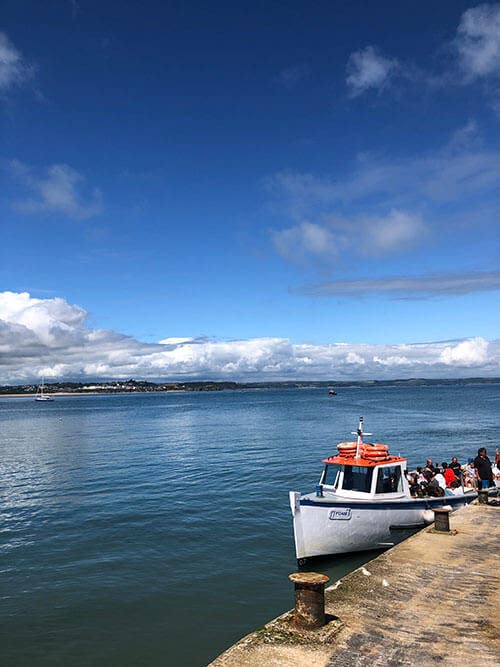 Places to eat:
Exploring all that the town and beaches have to offer can give you quite the appetite, so finding great places to eat and drink is essential!
For the beer lovers, check out HARBWR Craft Brewery and Taproom – they brew a range of tasty core ales and the tap room and brewery is available to explore. It's the perfect place for a pint in central Tenby.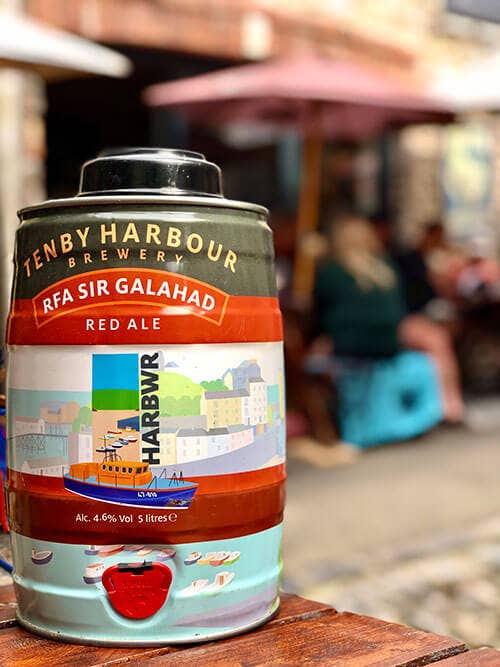 Sandbar & Cŵlbox offers open plan eating and drinking with the best local and independent beverages, not forgetting the fresh beach food... They also offer vegan, vegetarian and gluten free options.
Just around the corner from Sandbar, Top Joes Pizzeria make delicious sourdough pizza's at amazing prices – perfect for evening dining and essential for 'carb loading' after a long day of exploring.
The Blue Lagoon- Aberiddi Bay
If you're in the Pembrokeshire area, a day trip to The Blue Lagoon- Aberiddi Bay is a MUST! Previously an old slate quarry, the lagoon was formed when the channel connecting the quarry to the sea was destroyed, allowing the sea to flood in. The remains are simply breathtaking!
The lagoon is perfect for a fresh water swim but don't let the tempting turquoise waters fool you… the water temperature is particularly cold and wetsuits are advised (take it from two tourists who didn't have any…).
For the adventurers, there is the option to have a go at coasteering and sea kayaking - if that's your bag. If you have time to spare, take the coastal clifftop walk from the lagoon to Porthgain fishing harbour for more spectacular views of the rugged coastline.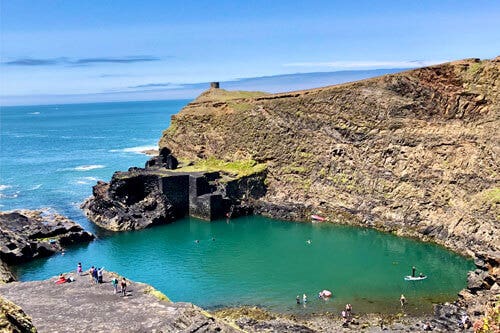 Rhossili Bay Beach and Worms Head
If you're looking to add one of the UK's most stunning beaches to your travel list then Rhossili Bay Beach should definitely be in your top 3. With a 3 mile stretch of golden sands, against a backdrop of stunning green cliff tops, it's definitely one of the most impressive beaches we've visited.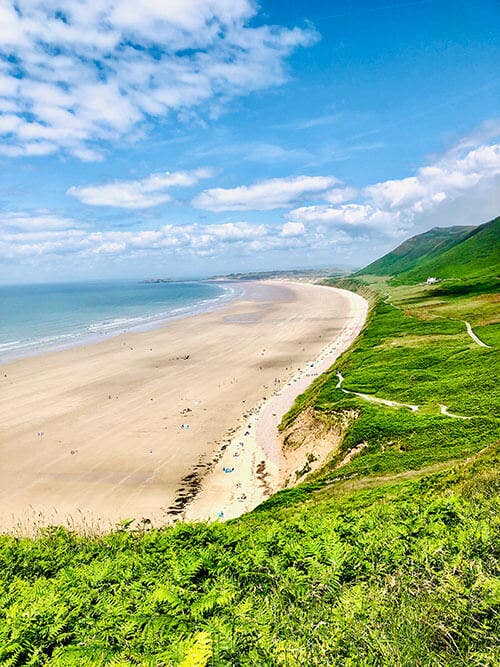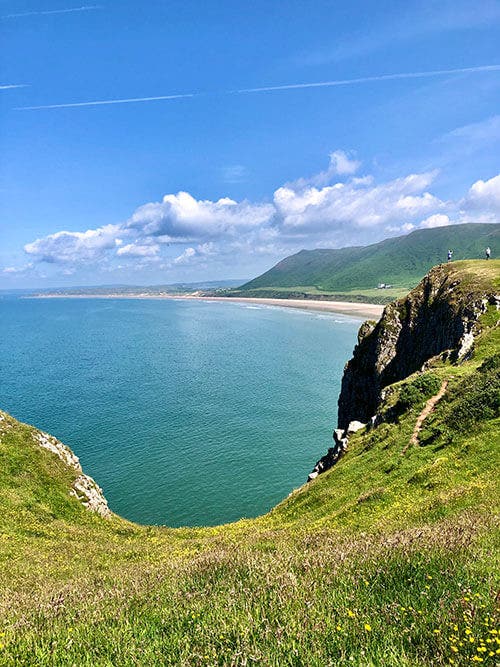 Only there for the day, we spent the morning taking advantage of the surf by paddle boarding the waves in. In the afternoon, we headed up to the cliff tops to take on the famous causeway trek to Worms Heads. Worms Head is only accessible when the tide is out so make sure to check in with the Coastguard before you set off. The hike takes around two hours and offers breathtaking views!
New Quay, Cardigan Bay
Our final 3 days were spent located in and around the gorgeous harbour town of New Quay.
When the tides out, you can walk out from New Quay harbour beach to Cei Bach beach – a huge expansion where there's plenty of space to sunbathe. The water is generally calm in the summer months so it's a great place to get the paddle board or kayak out. To rent some, head into New Quay town and hit up Cardigan Bay Watersports.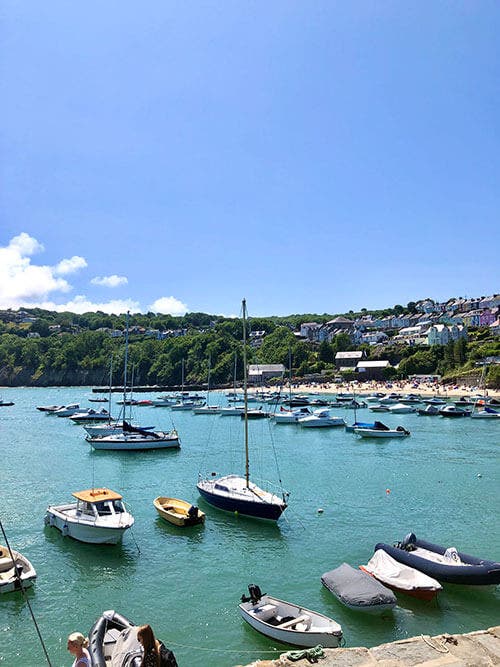 Places to eat:
Although popular with tourists, New Quay is a quaint place, so the food offering is a little limited. Nevertheless, we were more than impressed when we stumbled across The Lime Crab takeaway situated just off the pier. They offer mouthwatering fresh fish, pies and chips along with the option of takeaway pints so you can take your tea onto the beach or pier and watch the sun go down!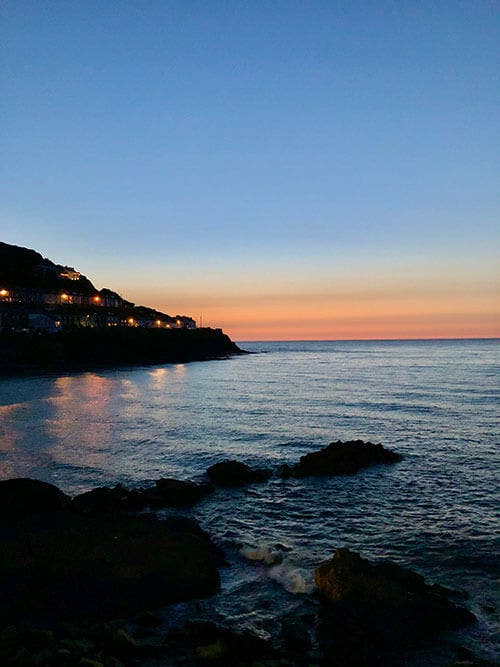 If you're looking for a little more choice on food and drink, or somewhere local to explore, Cardigan is only a 20 minute drive away and has plenty of cool and independent eateries, clothing shops and markets. CRWST is a really cool foodie destination that offers the best breakfasts and brunches in town. The honey butter pancakes are particularly delicious!
I hope you enjoyed reading about our wonderful Welsh tour. If you haven't already, add the Pembrokeshire and Ceredigion coastline to your travel hit list pronto!
If you're looking for more staycation inspiration why not check out our other instalments:
Keep your eyes peeled on our social channels for the next instalment in our 'Staycation Series'.
Scroll to top