Transitional Knitwear - Top Style Tips
Ultimate Summer Knit Top
If you're looking for a style that you can rock all season long, then look no further than our Ultimate Summer Knit Top. This truly versatile piece is available in two colourways, Stone & Orange, so you can have something to suit every mood.

For Spring:
On the days where we're not quite reaching ice-lolly weather, this cosy knitted piece can definitely come in handy! Opt for our Vintage Embroidered Jeans, to add a kick-(flare)-start to your day, accessorising with a boho belt and cowboy boots for a splash of wild, wild West style that you can say yeeehaww to!

For Summer:
The super-lightweight knit makes this top a perfect option for some fun in the sun. Simply tuck into a pair of trusty denim shorts and leave your feet free for a paddle, whilst you soak up the sunshine at the side of the pool. Or if you feel like taking a dip, this is the ideal item to throw over a swimsuit or bikini, so grab your beach bags and hit the road!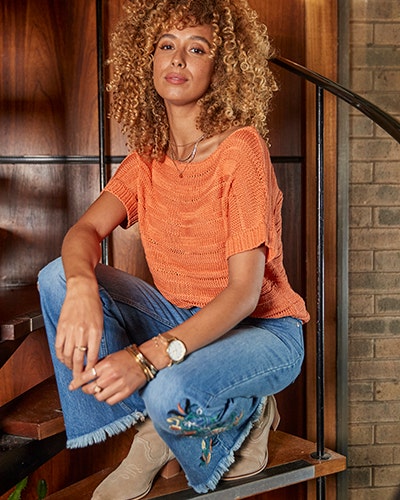 ---
Happy Sunflower Cardigan
---
Who doesn't love a happy sunflower to remind us that the blue-sky days are here once again? This uplifting design can be enjoyed season after season and makes the perfect transitional piece as we say goodbye to the winter blues.

For Spring:
Nothing says spring like a pop of yellow and vibrant florals, and in this case, we have the best of both worlds! This Happy Sunflower Cardigan makes the perfect introduction to your spring wardrobe, with its subtle injection of floral and lightweight knitted fabric. For a spring-ready style, tuck into our Yellow Gingham Skirt, to really pull out those gorgeous shades and pair with your favourite sandals or a simple kitten heel for a bloomin' lovely combo!

For Summer:
Get summer lovin' your new cardigan, featuring a jolly sunflower design that's promised to uplift your #mojoe. It's the perfect throw-on piece when the summer sun has gone to sleep and you're still partying the night away. Wear open over a casual vest or tee to keep out the sea breeze, and rock it with a pair of shorts, to complete your perfectly playful summer style. This one is truly made for summer days…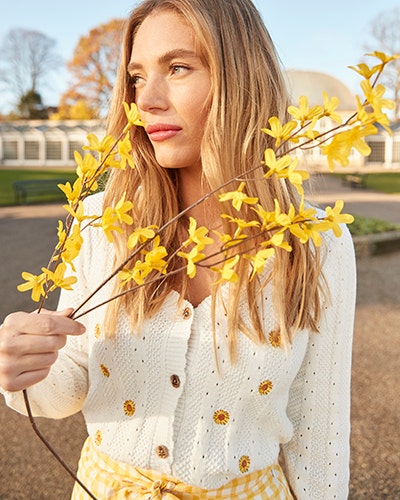 ---
Getting Ready for The Holidays!
Beach Babe Lace Tunic
This intricately detailed Lace Tunic has been designed with summer days in mind – but when paired with just the right thing, you can transform this look into a spring-ready style. So, whatever the weather, find out how you can rock it here…

For Spring:
Now, I know what you're thinking, the chances of getting more than a week of bikini-ready weather in the UK, is slim to none. So, on those days where you might need a few extra layers, this piece looks great when thrown over a simple vest and flared jeans for that effortless boho chic, perfect for the spring season. Add our Acapulco Pompom Bag to finish off your free-spirited style and get ready to release your #mojoe!
For Summer:
Throw yourself into summer with our Beach Babe Lace Tunic. This piece looks remarkable when paired with a two-piece while you're lounging on the beach, made in white to perfectly compliment that glowing tan! Throw on a pair of super-cute sandals, or if you're not one for getting sand in between your toes, then opt for a classic white pump.
---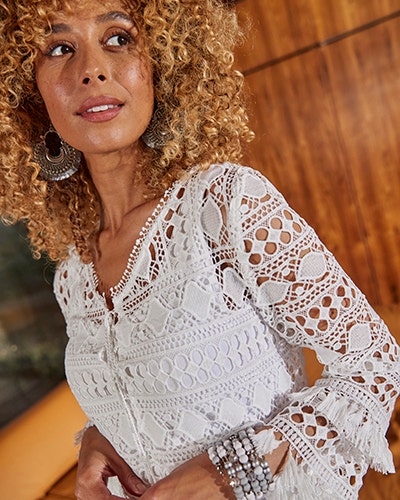 ---
Carnival Crochet Sweater
---
From days spent dancing under the sun, to nights roasting marshmallows by the fire, you'll never tire of ways to wear this beautifully bold crochet sweater. Use it to cosy up in or as an accessory to your wonderfully wild adventures. How about some styling suggestions to keep you inspired…?

For Spring:
Practically perfect when paired with jeans and a slip-on kitten heel, to turn your everyday outfit into a runway-ready style. The beauty within the bold design of this sweater, is that it can be dressed up or down to suit your every need. Tuck into our Wild At Heart Skirt, for an occasion-ready fit that you can twirl the night away in. After all, there's nothing like a spring occasion…

For Summer:
The clue is in the name…this Carnival Crochet Sweater is the perfect party-piece to take with you on your next summer adventure. The playfully colourful design conjures up memories of festivals passed - and is still a wonderful item to dance the day away in. Simply jazz up your look with a bralette or camisole, funky skirt and belt to bring your inner party animal and your #mojoe to life. Throw on your dancing shoes and away you go!
---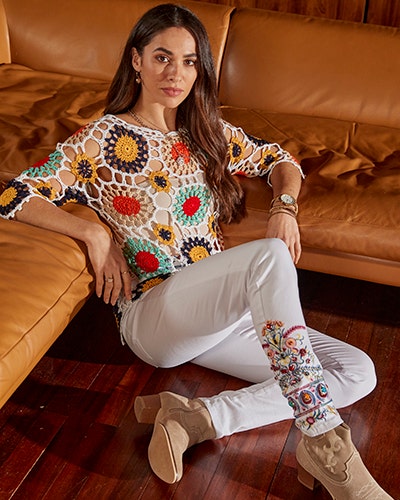 ---
Who would've thought knitwear in summer could look so good?! No matter what your plans this year, delve into every adventure looking super-stylish in a piece that you can wear time and time again. Head over to our brand-new collection and bag yourself a transitional piece that you can rock all season long!
Scroll to top