How To Deep Clean And Declutter Your Wardrobe
Does your wardrobe cascade on top of you every time you open the doors? Are your clothes taking over your much needed bedroom storage? Do you have to wade through your wardrobe to find something to wear?
While decluttering your clothes may top your list of exciting activities, we've got some great tips to ensure your wardrobe clear out isn't so much of a chore. Plus, you'll feel accomplished and amazed at how much space you have once it's finished!
Grab yourself a coffee and make an early start, or tempt your friends with a wine night and mini fashion show to make it a fun experience. Whether you're sorting solo or have some help, it's time to get some music playing and have a good wardrobe clear out!

Remove it All
---
Start by removing everything from your wardrobe. Yes, everything! Don't forget about the clothes that have slipped off the hanger and gathered in the deep dark corners of your wardrobe. Make sure you grab the shoes you've stashed under the bed and empty out those crammed cupboard drawers.
We recommend putting everything onto your bed — this way you'll have to finish before bedtime to avoid sleeping on the sofa! From here, you can start sectioning clothes into what you want to keep, give to charity and bin.
Got items in your wardrobe you haven't worn in six months or more? Or clothes that still have the tags on? It might be time to move on and give them to charity. Do you own a t-shirt that has been overworn and is coming away at the seams? Grab your bin bag!
For those items that have sentimental value, but you never wear, store them elsewhere — perhaps in a spare room or neatly box them away.
Deep Clean Your Wardrobe
---
Don't put your lovely neatly organised clothes back into a dirty wardrobe. Instead, take full advantage of it being completely empty and give all the surfaces a good wipe down to get rid of any dust. Plan ahead and purchase some drawer and shelf liners to keep your clothes storage looking clean and feeling fresh.

To keep things tidy, consider your hangers. If your gorgeous silky tops and strappy dresses always end up at the bottom of your wardrobe, try using some non-slip hangers to keep your clothes securely in place.

Our top tip: When rehanging your clothes, place all your hangers facing the same way, then turn in the opposite direction when putting away an item you've just worn. The next time you come to declutter your wardrobe, this will show you exactly which clothes you haven't worn for a long period of time, helping you to organise with ease!
Categorise Your Clothes
---
Now that you have a pile of clothes to donate and throw away, separate everything you want to keep into categories. Morphe that big pile of clothes into neat stacks, organising into clothing types such as t-shirts, jeans and shorts and decide which pieces you want to hang back up and which you can fold into a drawer or pop on a shelf.
Additionally, by having different sections for your workwear, going out clothes and loungewear, you'll be able to see exactly what you have. Put them back in your wardrobe in categories so you know exactly where you're reaching every time you get dressed! This also means you can enjoy some guilt-free shopping for any items or categories you're running low on...
Separate Space For Holiday Essentials
---
Those shorts that only see the light of day while you're packing your suitcase? The beach cover-ups and swimming costumes that have no place in your wardrobe? Divide all your holiday essentials from your other clothes and find somewhere else to store them.

You'll find that your wardrobe feels instantly decluttered when you choose another space to keep the holiday clothes you only reach for a couple of times a year. Just make sure those bikinis and summer dresses are still easily accessible for the odd sunny days that the English summer brings!
Learn From The Process
Is there a certain style of clothing you throw away every time you declutter your wardrobe? While we've all made those impulse purchases, decluttering your wardrobe can be as much for tidying and organisation as it is to help you find your own unique style.

Think about the pieces you wear the most and that continually survive your declutters. Similarly, if you find you keep donating the same style of dress or trousers, you know to avoid buying them again when you head out shopping. This is the perfect way to purchase pieces you're sure to love wearing time and time again!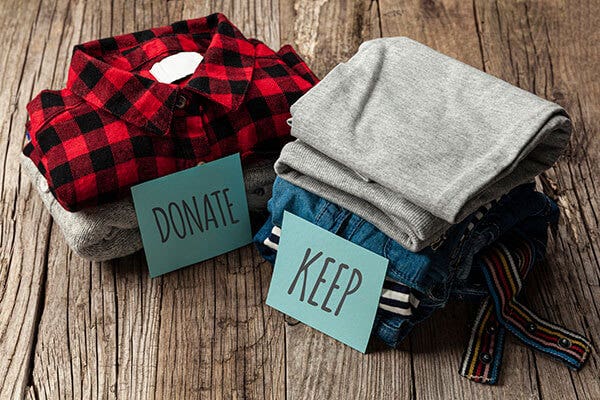 ---
Do you have any other tips for clearing out your wardrobe? Join in the conversation on Facebook or Instagram. And don't forget to save our inspiration section for even more tips!
Scroll to top